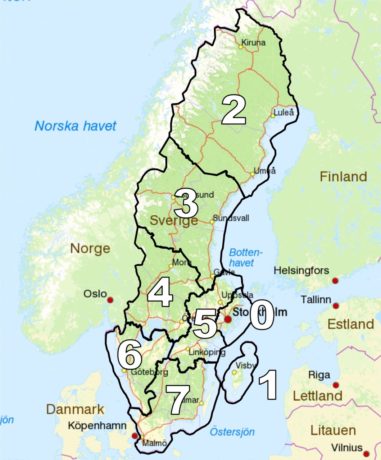 Foreign radio amateurs with a CEPT license (T/R 61-01) can, for a stay of up to three months, without a special permit operate amateur radio in Sweden. The temporary call sign to be used is SM/your call or SA/your call. You have the option to add the call area. E.g. SM6/your call.
Foreign radio amateurs with a HAREC license (T/R 61-02) that are resident in Sweden can apply for a permanent Swedish call sign. Apply to SSA, e-mail address signal@ssa.se. Include a copy of your HAREC-certificate and a 'population registration certificate' of type  "Address" (Personbevis). The latter can be ordered from the Swedish Tax Authority (Skatteverket) using the link above.
License holders according to above may operate on the same terms as Swedish license holders. Sweden has only one license category ("HAREC")
Questions about amateur radio in Sweden will be handled by SSA. Please e-mail to signal@ssa.se.
For more information see the band plans linked below.
Current Swedish bandplan HF
HF: https://www.ssa.se/ssa/dokument/bandplaner
Current Swedish bandplan VHF
VHF: https://www.ssa.se/ssa/dokument/bandplaner-vhf-shf
Visitor's amateur radio stations in Sweden
There are three visitor's stations that are at guests' disposal. In general, however, one should register with the relevant contact persons well in advance.
Visitor's stations:
SJ9WL http://www.sj9wl-lg5lg.com/
SK0TM http://sk0tm.se/
SK6RM http://wordpress.radiomuseet.se/besok-sk6rm/