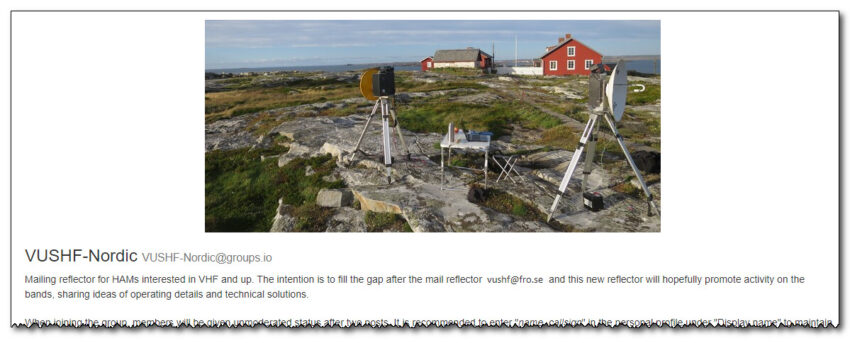 Under julen har jag tillsammans med Jens, SM6AFV och Kjell, SM7GVF, diskuterat hur vi skulle kunna ersätta reflektorn vushf@fro.se. FRO-reflektorn har länge varit ett gott bidrag till aktiviteten och blev saknad när den försvann. Vi har diskuterat olika lösningar men landade till slut på Groups.io och nedan finns information för de som är intresserade att ansluta.
Inledningsvis kommer vi ha en gratislicens men faller detta väl ut kan en betald licens bli aktuell. Gratislicensen har en del begränsningar men vi hoppas ändå att funktionaliteten skall vara OK för mailreflektorn.
Tanken är att reflektorn framför allt är till för Norden, men givetvis är alla intresserade välkomna. Grundtanken är att reflektorn skall bidra till aktiviteten på banden och information kommer skickas ut till övriga nordiska länder (NRAU).
Invitation to new mail reflector
A new mail reflector for VUSHF in the Nordics have been set up on Groups.io, of course all interested VUSHF amateurs are welcome to join. The goal is to promote activity on the VUSHF bands.
There are two ways to join/subscribe and there are some additional information on the group home page.
If you are registered on Groups.io, open the home page and open "Find a group". Search for "VUSHF-Nordic". On the VUSHF-Nordics homepage, click "Apply For Membership in This Group".
If you want to subscribe by an email, send an empty email to VUSHF-Nordic+subscribe@groups.io. You will get a reply email from Groups.io that you must reply to. After this is done, group admin will need to approve your subscription.
Välkomna att hänga på!
73 & ett Gott Nytt Radioår!
/Mats, SM6EAN