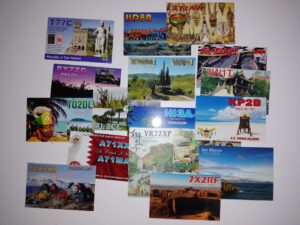 Sedan i somras har 60m (5351.5-5366.5 kHz) blivit lite av ett favoritband för mig. Med 15 watt till en SteppIR-vertikal har jag inte så mycket att spela med men det har blivit 110 DXCC-länder körda (sedan 2013 om jag skall vara ärlig). Den mesta trafiken körs på FT8 (5357 kHz), CW-delen är tyvärr rätt tyst fast det har blivit ett och annat DX även på detta trafiksätt.
Det finns inget DXCC-diplom utgivet av ARRL, fick nedanstående svar på en fråga om ett framtida 60-metersdiplom:
"Hi Eric,
As 60-Meters is a shared, secondary, channelized allocation not available in all countries, a band where in thee USA we at times will intercommunicate with Emergency Services Agency Partners, we've strategically avoided encouraging any Award activities on the band – and we prohibit contesting on the band in the USA.
LoTW will confirm QSO Matches with persons logging contacts, but that is all we do on that band.
Thanks for participating!
73,
Bart Jahnke, W9JJ
Radiosport and Regulatory Information Manager
ARRL – The national association for Amateur Radio®"
Sammanslutningen 60 meters online ger ut ett eget 100-ländersdiplom, går loss på $15, inte riktigt värt det. De har även en rankinglista över körda DXCC; EA8AK ligger i topp med 255 länder, vi är några SM med i listan!