"The Association of St.Petersburg Radio Amateurs (ALRS) invites you
to participate in the annual UA1DZ Memorial Cup 2021.
The contest will take place on Sunday, April 25, 2021,
from 13:00 to 18:59 UTC on 80/40/20/15/10 m, SSB/CW/MIX.
Please check complete rules here.
Cabrillo logs should be sent to logs@ua1dz.ru by May 5, 2021.
The results will be updated online with every new received log.
CU and GL in the contest!
—
Best 73's
UA1DZ Memorial CUP Organizers"
Denna välarrangerade tävling har alltid högt deltagarantal så passa på att köra ihop QSO till vår HF-cup!
Texten tagen ur mejl från tävlingsarrangören.
Årets resultat är nu publicerat.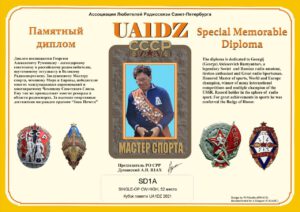 Tjusigt värre med gamla sovjetiska symboler!