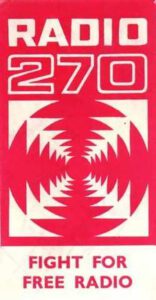 Den 14 augusti är det 55 år sedan Storbritannien införde den drakoniska Marine Offenses Act som i princip förbjöd allt samröre med de skeppsbaserade radiostationer som låg runt öns kuster. En av dessa stationer var Radio 270 som sände utanför Yorkshire. En hel del radioprogram och poddar högtidlighåller minnet av stationen, Paul Rusling/G4LBC skriver följande i ett mejl:
"Radio 270 will be commemorated by several contemporary stations (click names for links) this month as many remember the golden days of the 1960s.
Radio Caroline Flashback start the ball rolling this Saturday (6th) with an Archive Special look at Radio 270 – it features Rusty Allen and Phil Hayton and starts at 8pm.
On Friday 12, Absolute Radio has a special 6 hour programme about offshore radio, from 10am on its Absolute 60s channel.
The following two days, Saturday 13th and Sunday 14th, Atlantis Radio has an Offshore Radio Extravanganza, including a two hour Radio 270 special at 6pm. Don't miss it!  Atlantis Radio usually has a team of old pirates playing 60s tracks all day and rock music all night; and they have £20k worth of prices to give away this summer. Well worth a listen!
On Sunday 14th August, OAP station BOOM RADIO features several programmes about offshore stations and we're promised that many Radio 270 excerpts will be heard.
Get your tape recorders (or Hard Drives) ready! 
Paul Rusling"